Personlig rekord for sexy Rihanna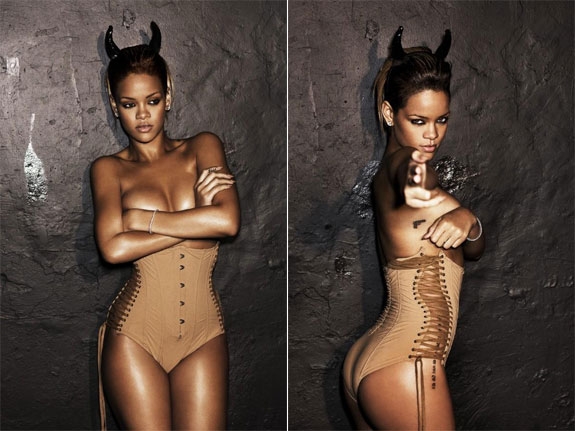 Denne måneden kom Rated R i salg, med både brask og bram. Settet tok 4. plass på Billboard 200 med 181 000 solgte eks i USA i løpet av den første uken, som er rekord for Rihanna. Hennes forrige sett, Good Girl Gone Bad, åpnet med 162 000 i 2007.
Barbados-babens perfekte popalbum kan du laste ned her: Platekompaniet iTunes
I dag blir det annonsert hvor mange som har kjøpt Chris Browns Grafitti, som angivelig er enda færre enn han fryktet.
Hissigproppen twitret at han mener butikker boikotter albumet hans ved å ikke sette det ut i hyllene, noe som angivelig ikke stemmer. (Hvorfor vil fysiske butikker med vilje tape penger ved å la nettbutikker få oppsving?)
– JUST WAS AT WALMART IN wallingford CT,844 north colony.. the didnt even have my album in the back… not on shelves, saw for myself…we talked to the managers and the didnt even know anything. wow!!! but they had alicia keys album ready for release for this tuesday comin…no disprespect to alicia at all.. just givin an example to whos album is loaded and ready to go next week. Yes, how dare the manager know all about the upcoming album release from 12-time Grammy winner Alicia Keys!
Svaret fra Walmart:
– All Walmart stores nationwide have carried the CD since its release, including the Wallingford store mentioned in the post. This store actually sold through its initial shipment over the weekend. The majority of our stores today are showing they do have copies available.
Skrulle-Chris svarte med slette sin Twitter-profil etter dette innlegget:
I WANNA THANK MY FANS FOR ALL THE SUPPORT. I LOVE YALL. GOODBYE!!!!!!!!!!!!
I januarnummeret av GQ er RiRi som vanlig delikat på bildene, og byr på en ærlig prat. Du kan lese intervjuet hos her.
Got skills? Vinn Rihannas album + mange andre via dette julespillet
Nedenfor er en smakebit, hvor 21-åringen snakker om Chris Brown, og forteller at hun ennå ikke har fullført videregående skole.
FRESH RIRI I NYE GQ (FAKSIMILE)
You were in love. Yeah.
And you were a kid. Yeah.
Do you think you two will ever be friends? Mmm. Maybe in like ten years, you know? But it's not something that I'm depending on. I'm not depending on his friendship.
Right. How do you ever trust again? I can trust. I mean, I don't like to stereotype; I believe everybody's an individual. You can't judge someone based on someone else's actions. There are people in the world who will love you and people in the world who will hurt you, and there are people in the world who will do both.
Do you think a man who does something like that can change? Absolutely. Yeah. Some of them won't change and some of them will—but you know, very few of them change.
By the way, did you ever graduate high school? No. I wanted to. I just got really busy.
You know, when I talked to those high school girls…and this illustrates how difficult a problem it is: Their first question was «What did she do to get hit» Mm-hmm.
And I thought, Oh God, how awful is it that they'd ask that question. Mm-hmm. After everything happened, it was a wake-up call to me…I didn't realize how much of an effect it had on young girls' lives, and that's part of the insight that I wanna give. Stop blaming yourself for that outcome. There's nothing you can do, ever, to excuse a man's behavior like that.
Se snapshots: 730 var på en absurd kul Rihanna-klubbkonsert