Childish Gambino får sin første #1 på Billboard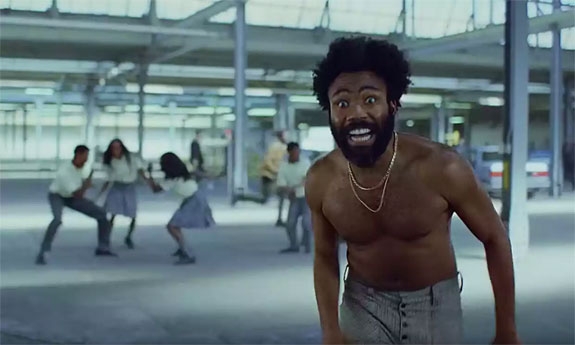 Oppdatert mandag 14. mai 14:45:
Dagens minst overraskende nyhet, men gud bedre så velfortjent: Childish Gambino (alias Donald Glover) får sin aller første førsteplass på Billboard Hot 100 med «This is America».
Mye takket være musikkvideoen, topplisten teller nemlig også med YouTube-visninger.
Musikkvideoen fikk over 20 millioner visninger det første døgnet, se alt om årets viktigste video nedenfor.
Gratulerer!

"This Is America" is Childish Gambino's first ever #1 single on the Hot 100.

— chart data (@chartdata) May 14, 2018


Opprinnelig sak (fra 7. mai):
WOKE VIDEO (MCDJ/RCA/SONY)
Stort sett serverer Childish Gambino alias Donald Glover mye mellom linjene.
Også visuelt, jamfør hans forrykende, Hiro Murai-regisserte video til «This is America», som snart bikker 20 millioner hos YouTube på ett døgn:
Tittelen hinter om politiske budskap, men det er ikke så lett å få med seg alt som skjer i videoen. Fordi dans. 34-åringen, som stiller i baris, må bryne seg på heftig koreografi gjennom hele snutten. Men ved første titt forstår man at vold, rasisme, terrorisme foregår i bakgrunnen av populærkulturelle underholdningen. Bokstavelig talt.


Ingen offisiell forklaring er gitt, men folk spekulerer på nettet.


Her er noen tolkninger via Twitter:

Sort populærkultur fenger mer enn rasisme




Dansing er mer gøy enn kampen for et rettferdig rettsapparat.

#ThisIsAmerica video interpretation: some people love black culture when it comes to dope beats, dance crazes, and style. But when deeper issues come up: racism, violence towards blacks, appropriation, etc…they look the other way

— Miguel8080 (@Miguel49057685) May 6, 2018
That's when the dancing begins, as a distraction to the rioting in the background. The world is so eager to adopt black culture (Blocboy JB's dance) whilst ignoring the racial injustices they face. pic.twitter.com/wo0tvGue5h

— LK (@thelocalemo) May 7, 2018

Våpen er mer verdsatt enn mennesker i USA

Placing the guns carefully on red cloths is such a subtle but glaring criticism of the fact that even after such atrocities we still value such deadly weapons over the lives of innocents. @donaldglover #ChildishGambino #ThisIsAmerica #Dontcatchyouslippin pic.twitter.com/9IS0uF9Vly

— Mxchxxl (@xCANNIBEMEx) May 6, 2018
Guns are treated with more respect than human lives: the gun is carried off carefully by a nicely-dressed man, whereas the corpse is dragged off and immediately disregarded. pic.twitter.com/ZpZP12OkFy

— LK (@thelocalemo) May 7, 2018

Donald Glover spiller Jim Crow

Karikaturdansen Jump Jim Crow, inspirert av en psykisk utviklingshemmet svart mann, referer til Jim Crow-lovene, som innebar rasemessig segregering.

Shook by how fast I caught this reference. I haven't seen a Jim Crow picture in years. Donald Glover did not come to play with y'all today. #ThisIsAmerica pic.twitter.com/5Xq4tLSJ7P

— Nick (@nicky_furiosa) May 6, 2018
Hvor er din oppmerksomhet?

Videoen referer til snutten Awareness Test, hvor du skal følge en basketball som blir sendt rundt. Noe som gjør at mange ikke ser det andre som skjer. Vær på vakt. Eller om du vil; stay woke.
Referanser til Bibelen

Apokalypsens fire ryttere fra Johannes' åpenbaring beskriver hendelser som vil inntreffe når jorden går under. Som i Bibelen; den ene hesten i videoen er hvit. Kampen mellom himmel og helvete blir dog ikke lagt merke fordi folket er for opptatt med dansing.

Death riding the Pale white horse while he is followed by Hell (represented by police) going totally unnoticed because of dancing and pop culture in the foreground is the single greatest cinematic message I've seen in a music video to date. #ThisIsAmerica pic.twitter.com/DYaPjbvoym

— Isaiah Persons (@PersonsIsaiah) May 6, 2018

Religion oppfordrer til jakt på materielle goder

Samtidig som videoen kan minne om sorte kirker som har blitt beskutt av rasister/terrorister i USA.

Notice the church choir sings about getting money. Highlighting how religion encourages the pursuit of a materialistic lifestyles.

Or it's about America's history of shooting up black churches. #ThisIsAmerica pic.twitter.com/gvenvED49p


— Andrew O (@bomcjo) May 7, 2018

Referanser til «the sunken place» i Get Out
Den Oscar-nominerte filmen, som har med Childish Gambinos forrige sviske «Redbone», bør du se på nytt.
The final scene shows Donald being chased by white people, suggesting the intrusion of white supremacy into the life of a black man. This clip has undertones of the sunken place in "Get Out". pic.twitter.com/6MLxvtLIYn


— LK (@thelocalemo) May 7, 2018
The Sunken Place means we're marginalized. No matter how hard we scream, the system silences us.

— Jordan Peele (@JordanPeele) March 17, 2017

Bonus: La du merke til SZA?




Apropos artister som stiller for Donald:

«This is America», produsert av svenske Ludwig Göransson, har en haug av rappere som bidrar med bakgrunnsvokal (adlibs). I sangens kreditering står denne gjengen oppført: Young Thug, BlocBoy JB, Quavo fra adlib-mesterne Migos, Slim Jxmmi fra Rae Sremmud og 21 Savage.

Donald Glover spiller i nye Solo: A Star Wars Story: Se trailer